Table of Contents
Color Calibration
Saturation
Point the color analyzer or light meter towards the screen and display a 100% white test pattern.

Measure the Y value (luminance) of white.

Display a 100% Red test pattern, and measure the Y value here as well.

You will notice that as you move the Color control up and down, the Y value of Red increases and decreases, but white stays the same.

Set the color control at the point where Red measures closest to 21% of the white reading.
Color Checker in browser
ColorChecker Display vs Pro
Approx deviation ΔE between units mean: 0.4 max: 1.6
Device precision ΔE mean (wide gamut): 1.7 max: 2.8

ColorChecker Display (formerly ColorMunki) 400-700nm
ColorChecker Display Pro 380-730nm
DELL U2415
Contrast 73 for correct white point
WhiteLED alternative white point
x:0.308 y:0.319 RAW(uncorrected)
Gamut 98% sRGB, 73% AdobeRGB, 77% DCI-P3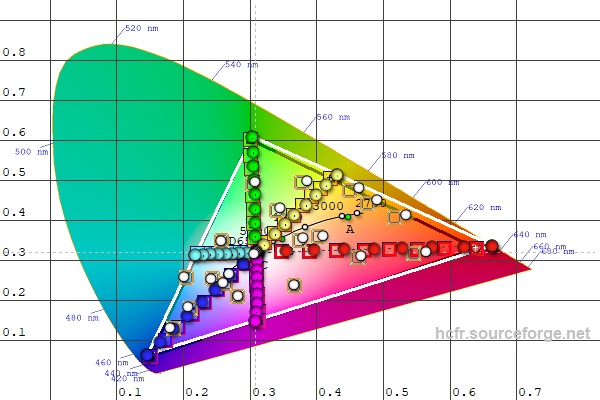 https://www.panelook.com/LM240WUA-SSA1_LG%20Display_24.0_LCM_parameter_23652.html

LG OLED 65B9S
OLED 2019 Alternative White Point x: 0.308 y: 0.313 RAW(uncorrected)
LG Electronics with Dolby Laboratories (visual color matching method trying to match a Reference Grade-1 CRT)
https://pro.sony/s3/2021/01/22153606/ColourMatching_Between_OLED_and_CRT_E.pdf
| Sharpness | 10 or more because conture smoothing (15) |
| --- | --- |
| Mode | SDR |
| Mode | ISF Dark (Warm2) |
| Contrast | 68 |
| Brightness | 53 |
| Saturation | 60 |
| Color | LOW |
| L-RED | 0 |
| L-GREEN | 0 |
| L-BLUE | 0 |
| Color | HIGH |
| H-RED | 11 |
| H-GREEN | 0 |
| H-BLUE | 27 |
| Mode | HDR10 / Dolby Vision |
| Mode | Technicolor (Warm2) / Cinema (Warm2) |
| Dynamic contrast | Low (any high and blacks are crushed) / Standard |
| Contrast | 77 (keep proper white point D65) |
| Brightness | 50 |
| Saturation | 63 / 61 |
| Color | LOW |
| L-RED | -3 / 0 |
| L-GREEN | -3 / 0 |
| L-BLUE | -4 / -1 |
| Color | HIGH |
| H-RED | 24 |
| H-GREEN | -3 |
| H-BLUE | 50 |
LG-WOLED SDR rec.709-D65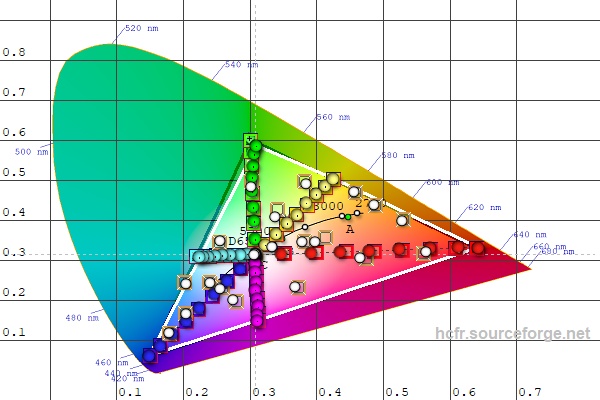 | Color | Saturation | Tint | Light |
| --- | --- | --- | --- |
| RED | 3 | 6 | 2 |
| GREEN | 7 | 12 | 0 |
| BLUE | 2 | 2 | -3 |
| AZURE | 7 | 1 | 0 |
| MAGENTA | 3 | 4 | 1 |
| YELLOW | 1 | 1 | 2 |
LG-WOLED HDR10 bt.2020 / P3-D65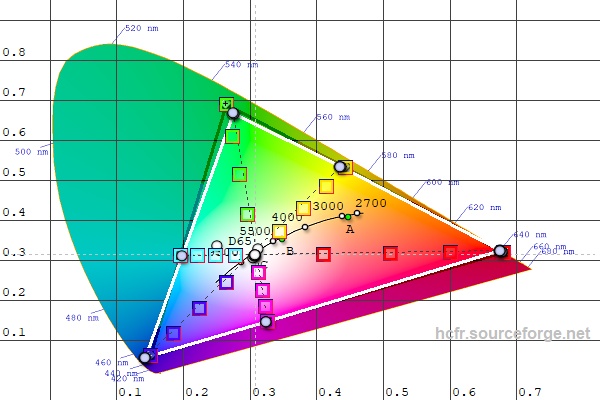 | Color | Saturation | Tint | Light |
| --- | --- | --- | --- |
| RED | 2 | 13 | -13 |
| GREEN | 7 | -30 | 0 |
| BLUE | -7 | -11 | 0 |
| AZURE | -1 | -8 | 1 |
| MAGENTA | -5 | -8 | -2 |
| YELLOW | 2 | 9 | 2 |
TV can play
Dolby Vision (DVHE) Profile 5 and 8 in HEVC (only in MP4/TS mux)
HDR10 VP9 (MKV), HEVC (MP4 and MKV)
Lenovo VIBE Z2 Pro
| ~6500K | Value |
| --- | --- |
| RED | 100 |
| GREEN | 91 |
| BLUE | 95 |
Phone can accelerate H264 4K and HEVC 1080p in 8bit

Phone can record H264 3840x2160x30fps 100mbit/s in 8bit
Lenovo YOGA Tab 3 Plus